Larva Link
3.6.12
Puzzle Game – Feed the Hungry Larva
If you love watching the Larva comedy cartoon show then you will find this puzzle game to your liking. Larva Link is an exciting game in which you have to link together larva of the same color in a single continuous line to score points. It utilizes the characters from the hit cartoon show. You will see all of your favorite characters in some form or another in this game. At its core, Larva Link is a matching game. You are required to match the larva of the same type and color to satisfy their hunger. However, this matching needs to be done in the form of a link. If you are able to form a link between three same-colored larvae or more, you will make them disappear from the board.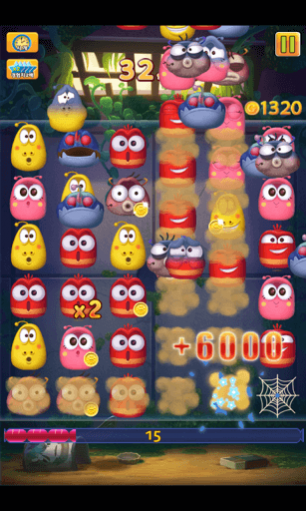 Larva Link has slick gameplay which becomes more enjoyable thanks to the beautiful graphics and animations. There is no dull moment when playing this puzzle game which just adds to the fun. The controls of the game are user-friendly as well. Linking the larva is simple enough. You just need to drag the larva in the desired direction and link them with a larva of the same color. The linking can be done in all the four directions, up, down, right and left and also in diagonal. Each time you are able to link at least three larvae in a single continuous line, you will be able to score points. The more larva you link, the higher the score you get.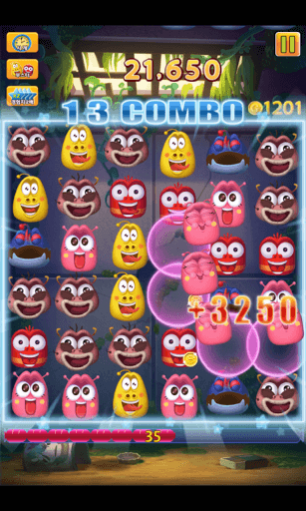 In this puzzle game, you aren't offered moves, which is the norm in other matching games. Instead, you get a one-minute time limit in which you have to make as many links as possible. You do have the chance to increase the time limit, though. However, to do this, you need to create a link of more than 10 larvae of the same color. This would give you some extra time to make more links and get a higher score. Another way to boost your scores is to earn special gems. These gems don't appear from the start of the game. You can earn them by linking at least 6 same-colored larvae in a single continuous line. The special gems include Cobweb, Frog, Fart Bomb and Prism.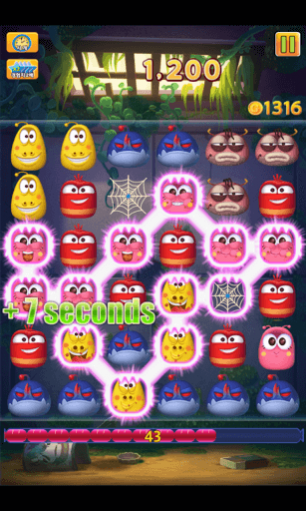 Larva Link allows you to create combos by utilizing the different special gems that you earn by linking multiple larvae of the same color together. If you are able to make multiple combos within the allotted time limit, you will enter into the fever mode. In this mode, you will be awarded an insanely high number of points and can reach super high scores. You will need these high scores if you want to rank highly in the global rankings that this puzzle game displays. These rankings change in real-time so if you get a particularly high score, you will immediately see your name pop up in the rankings.
Features:
Feed larva by linking them together
Link three or more larva of the same color to feed them
A limited amount of time available
Form larva links of more than 10 to gain extra time
Earn special gems for linking 6 same-colored larvae in a single continuous line
Create unique combos using the special gems
Get into fever mode by making multiple combos
Global rankings to see who has the highest scores
Conclusion:
Larva Link is a gaming app which is marketed towards the fans of the Larva comedy cartoon show. It allows them to meet up with the different characters from the show and take part in a matching game that is both fun and challenging at the same time. It is a decent puzzle game and you should definitely give a try especially if you like the Larva cartoon show.
---
Add a review
Tell us your experience with
Larva Link
3.6.12
RELATED PROGRAMS
Our Recommendations
---
---
---
---